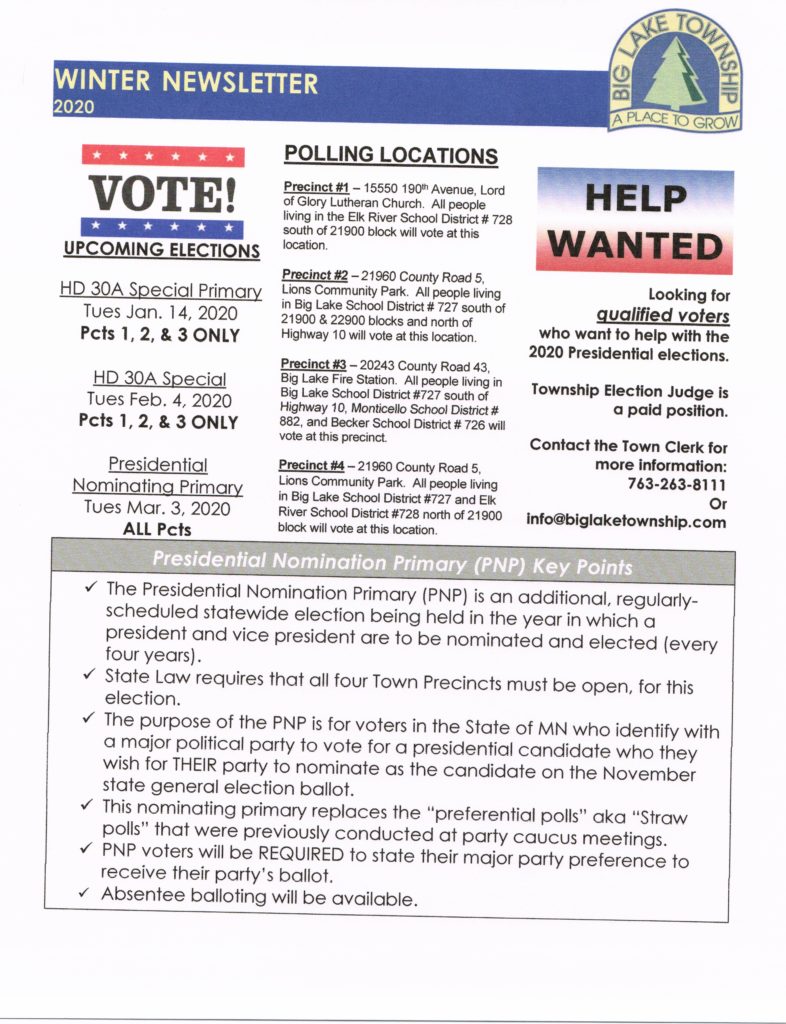 .
The Town's Ordinance #7 – Parking and Stopping on Township Roads
Ordinance-7-REVISED-June-2017-Stopping-Parking.pdf
.
---
.
IMPORTANT NOTICE
Due to West Sherburne Tribune, unexpectedly ending its circulation, the Town of Big Lake will publish Notices in the Elk River Star News and Becker Citizen-Tribune.
There is no change to the Town's Official Posting Board, located near the North entrance of the Town Hall.
.
We need your help to protect Township's rights and funding. Please take a moment to contact your Representatives and let your voice be heard.
---
.
INDUSTRIAL LAND FOR SALE
The Town of Big Lake and the City of Big Lake are co-owners of the Industrial Park East on Hwy 10 East of the City. ~ Shovel Ready Light Industrial Land for Sale
~
The Town Hall is located at: 21960 County Road 5 NW Big Lake, MN 55309
Mailing Address: PO Box 75 Big Lake, MN 55309
Town Hall / Clerk's Office Hours:
Monday -Thursday 8 am – 3 pm and Fridays 8 am – 12 Noon
2019-2020 Clerk's Closures and Holidays List
Central Mississippi River Regional Planning Partnership (CMRP) formerly the
Highway 25

Coalition – click link below for more information https://regionalplanningpartnership.org
April 2019 to April 2020 Township Meeting Dates